CASE STUDY
El Tour de Tucson Event Materials
CLIENT El Tour de Tucson 
PROJECT El Tour de Tucson cycling event 
NEED Quality, branded, cohesive touchpoints throughout the event to position El Tour de Tucson as one of the premier cycling events in the country while also highlighting the "Best of Tucson" for riders.
CHALLENGE Working with varied substrates, materials and surfaces to provide cohesive, branded event graphics to be utilized throughout a temporary event landscape.
SOLUTION Cirrus developed a synchronized workflow to ensure proper logistics and handling of customized printed materials to meet the need of Tucson's premier cycling event. 
SERVICES Large Format Printing, Digital Printing, Variable Data Printing, Project Management, Brand Application
---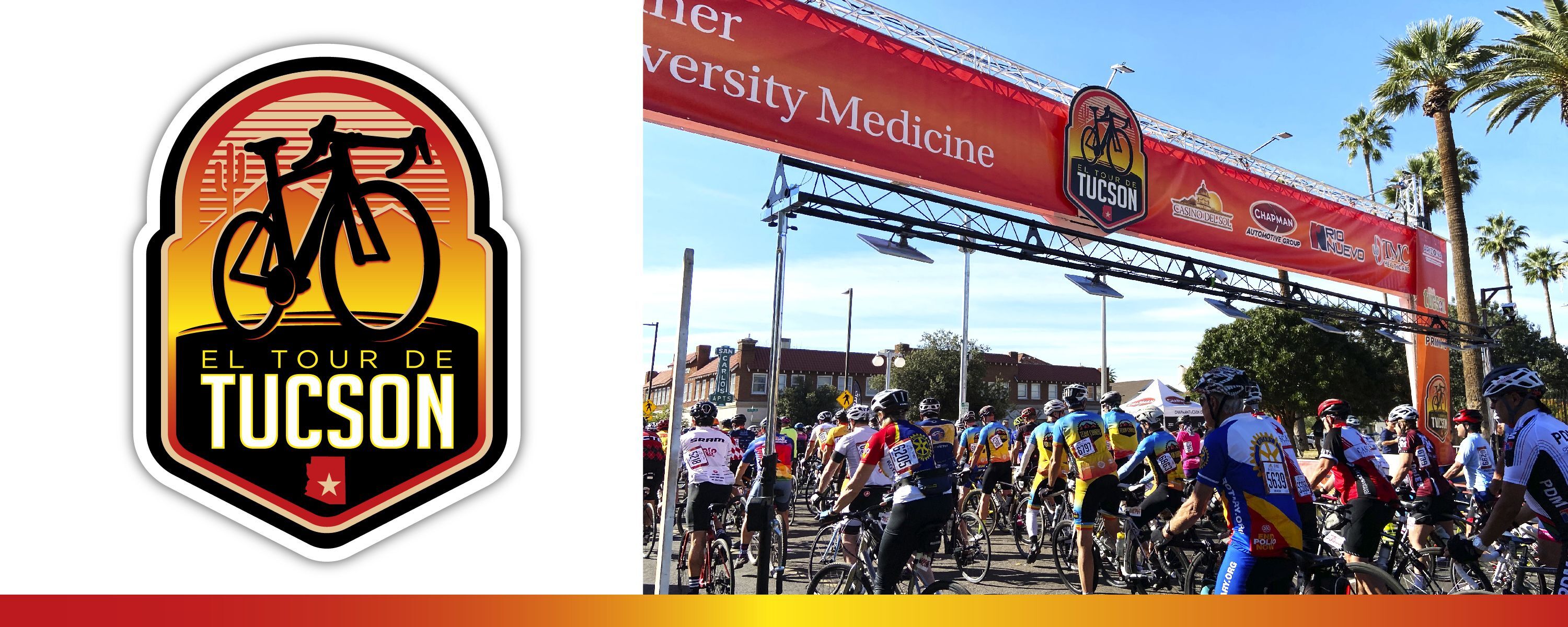 El Tour de Tucson is Perimeter Bicycling's flagship event and one of the premier cycling events in America. Held annually the Saturday before Thanksgiving, El Tour attracts nearly 7,000 cyclists of all ages and abilities from around the United States and beyond.
---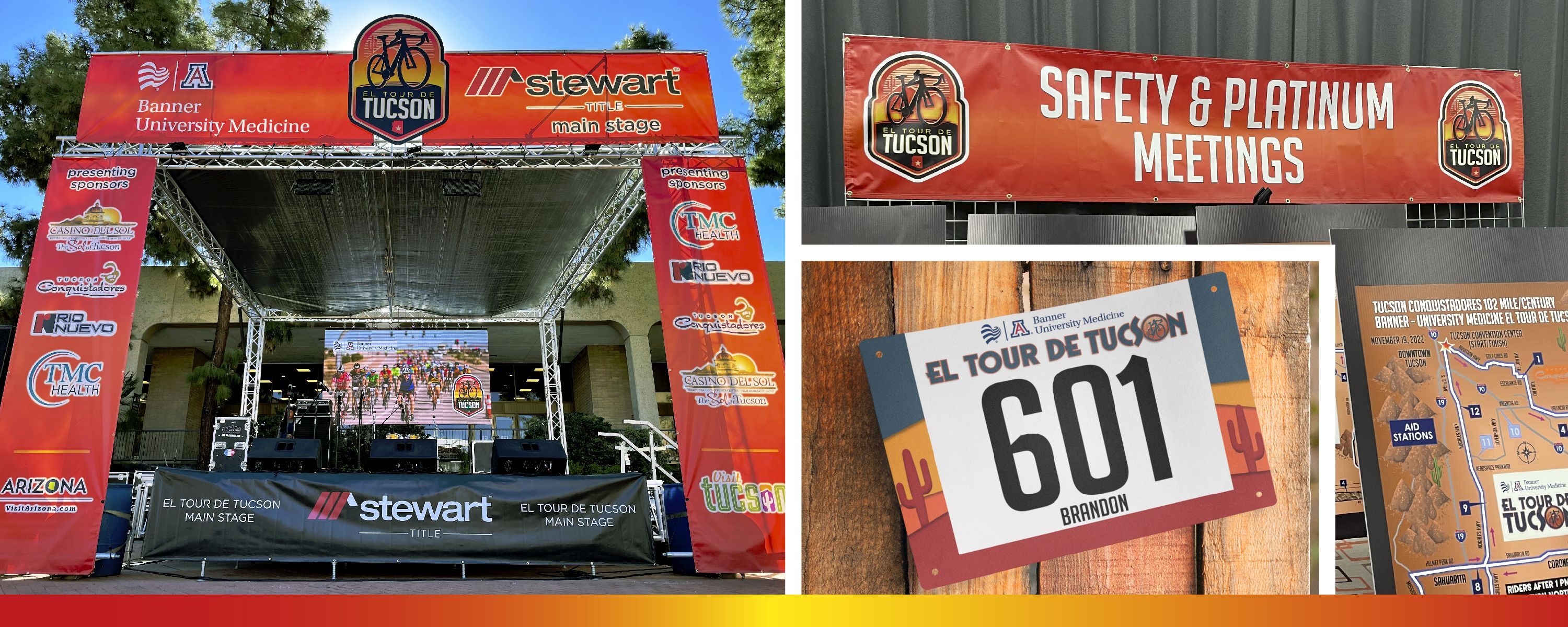 Cirrus' expertise was put into action from start to finish, literally. Cirrus provided El Tour de Tucson with pre-event and registration materials, badges, custom bibs, course maps, posters, directional signage, street graphics and a massive start/finish display.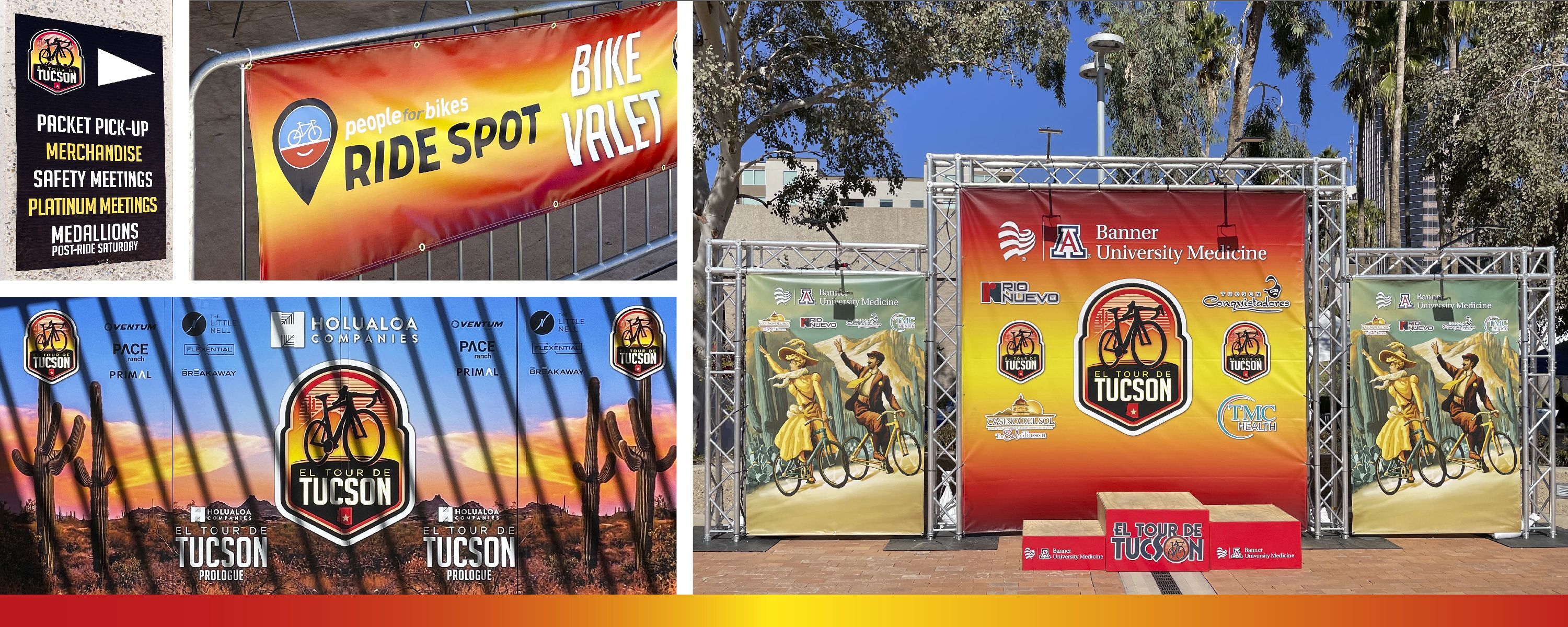 ---
Cirrus' work with El Tour started with an onsite survey of the event perimeter to engineer the best method for morphing a blank urban canvas into a temporary event landscape.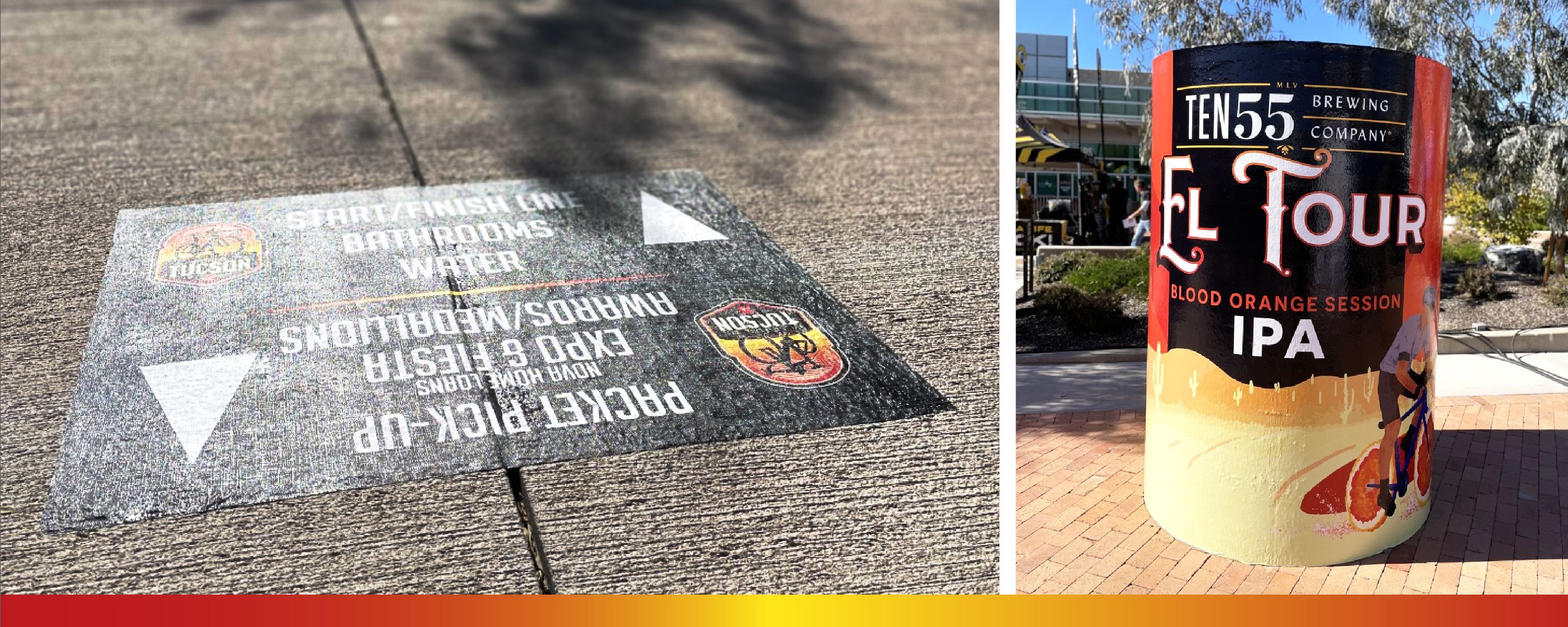 Ingenuity is essential when you are tasked to procure customized materials that could show up, hold up and be applied to hard-to-reach areas. 
Creativity is essential when you are tasked to transform a concrete cylinder into an enormous beer can for a weekend!
---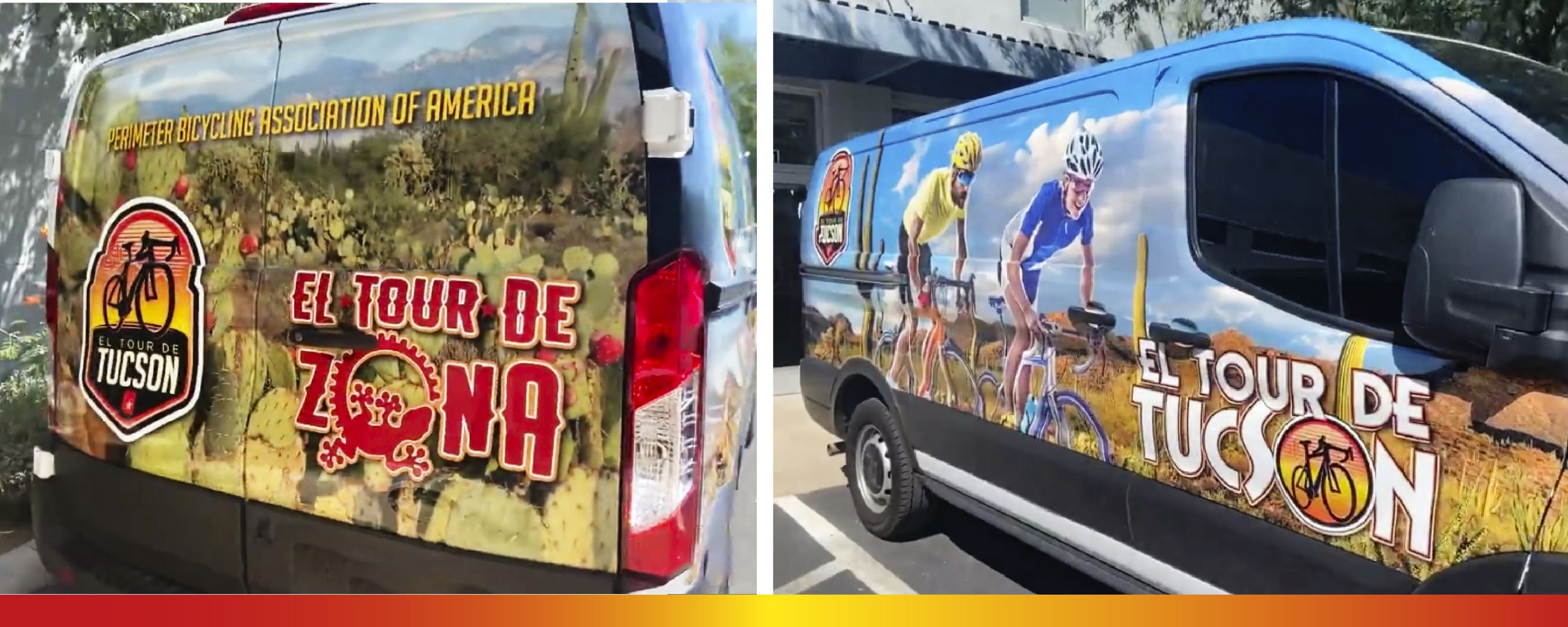 Check out this sweet vehicle wrap providing evergreen promotion on the streets of Tucson for Perimeter Bicycling Association of America's two flagship events - El Tour de Tucson and Tour de Zona. 
---
RESULTS  The event was a huge success! Cirrus ensured a seamless delivery of all materials thanks to vast experience in project management where organization, adaptability, communication, follow-through, and diligence are imperative. More importantly, we live for supporting local and being an integral part of a greater community event. RIDE ON!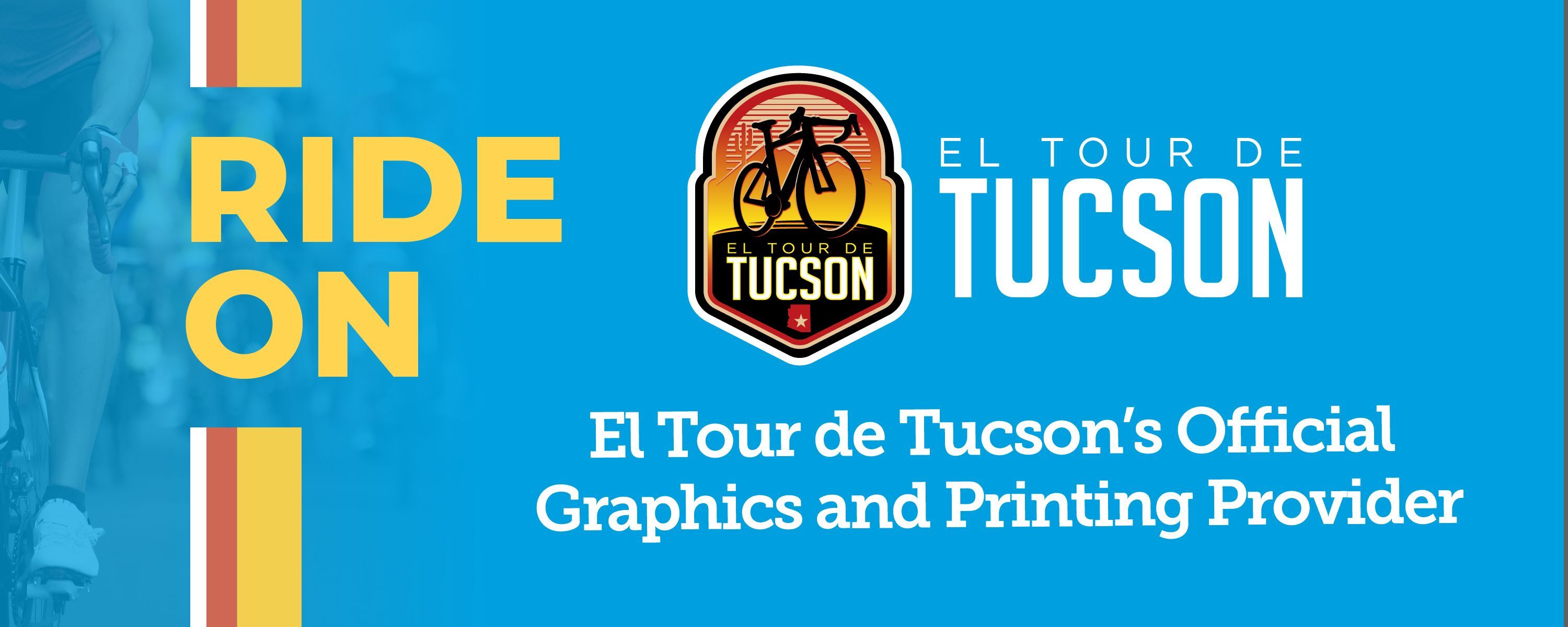 View more Case Studies
---