A Design Firm that Prints
---
January 27, 2017 | By Melissa Donovan, DPS Magazine
Cirrus Visual featured in news article by Digital Print, Packaging and Publishing (DPS) Magazine.

Founded in 1999, Cirrus Visual—based out of Tucson, AZ—grew from Brandon Blair, president, Cirrus' vision of being design firm that prints. That dream is reality with a staff of 18. Seven of those being in-house designers. It offers graphic design services for Web and marketing materials, digital printing, and promotional items.
The digital print provider moved out of a 5,000 square foot space in August 2016 to a 15,000 square foot location. Tripling its footprint was integral at this particular time due to its recent purchase of two Ricoh Pro C7100 printers in mid-July 2016.
The new printers offer Cirrus two features that it previously did not have—a fifth color channel for white ink or clear varnish and oversize sheet capabilities—which sets the company apart from its competition, according to Blair.
In regards to printing promotional materials, the Ricoh Pro C7100 printers are hugely influential. Designers create graphics for projects that standout thanks to the white ink, for example, designing with darker substrates or specialty paper in mind.
"I envision there will be even more opportunities as the designers learn how to leverage these new capabilities even further," shares Blair.
Currently, about 40 percent of Cirrus' revenue involved promotional print, or as it is referred to at the company—event material. These are usually shorter runs, so they take up a lower percentage of paper volume. Most projects involve multiple channels, from a website with a giveaway prize, to print and a landing page.
Cirrus' ability to design for every single one of these mediums is its true strength, says Blair. And its clients keep them honest, depending on the sophistication of the customer and whether it is a repeat project, the designers either create a concept from scratch or simply tweak an existing idea.
One of the first jobs run on the Ricoh Pro C7100 printers was for repeat client Reid Park Zoo in Tucson. It included promotional material used before the event—ZOOcson—took place and during the event as well. This campaign featured many elements, including invitations, signage, online graphics, and email campaigns.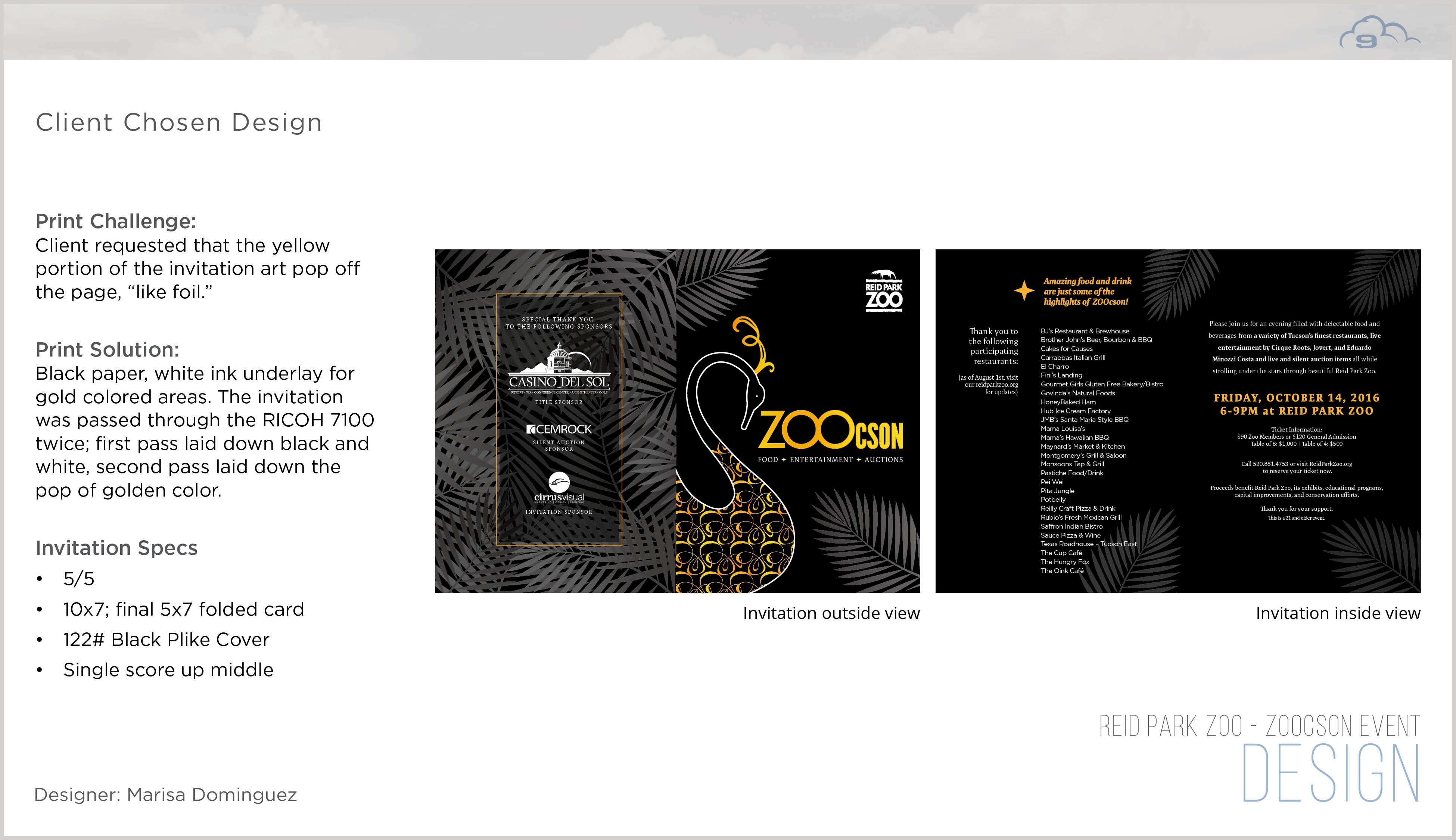 "This was the first job that really utilizes the printers and the graphics were designed with the printers' capabilities in mind," explains Blair.
ZOOcson is a fundraising event held every Fall, Cirrus is the design and print sponsor. This year the customer requested the promotional materials were elegant, modern, and exciting; included animal representation; and conveyed a black and white color scheme with a pop of color.
The print provider was given key information to meet these requests like the target audience, which included philanthropic zoo donors and members and corporate sponsors around 24 to 70 years of age with a mid-level income.
---
For the full article visit: