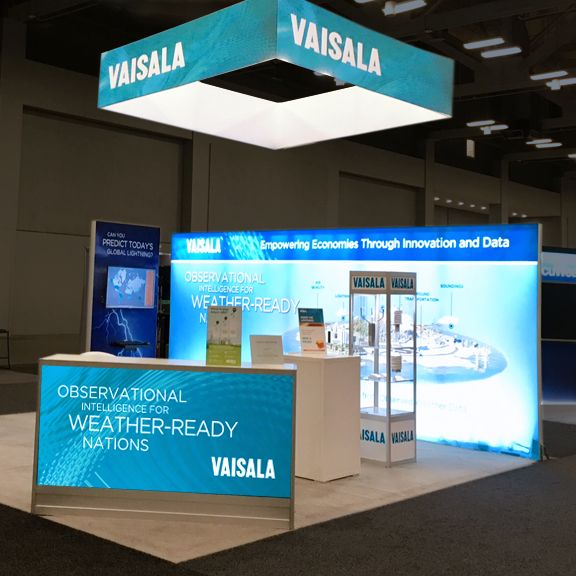 Event Signage
Cirrus is your one-stop-shop for all types of exhibit and event display solutions. We offer a wide range of portable display products, fabric structures, modular exhibit solutions, display accessories and related graphics. Select from our extensive offering of banner stands, portable signs, light boxes, table throws, popup displays, outdoor displays and exhibit kits and accessories!
Portable Displays
Collapsible pop up displays are easy to assemble and provide fast and stylish ways to display messages in trade shows, events, retail environments and more. These portable displays are lightweight, affordable and collapse for quick storage and shipping.
Collapsible displays, while simple to use and quick to set up, feature many customizable options and sizes, as well as multiple custom graphic options to best convey branding and messaging to your audience.
Folding Panel Displays
Portable folding panel displays provide a professional appearance without the fuss, and are simple, assemble in minutes and can be used in many ways. With a wide range of folding panel display sizes, styles and heights to choose from, finding the right solution to fit your needs has never been easier.
Durable fabric panels allow for hook and loop and push-pit attachment of materials. Graphics are easily interchangeable and allow for multiple displays and long use. Folding display boards are lightweight and easily portable, allowing for easy transport and set up. 
Backlit Displays
Bright LED lights illuminate your message, keeping more eyes on you to help you make a great first impression. Make your area complete with Illuminated Screens & Displays, Pedestal and Stage Pieces, or a On-Site Service Kiosks. 
Table Top Displays
Having a small space does not mean that you cannot make a big impact! Tabletop displays are lightweight, highly portable and ideal for adding "WOW" factor to any 4ft, 6ft or 8ft long standard table display. 
Need help with graphics? Our seasoned graphic design team will help you your brand get noticed and stand out from the crowd.