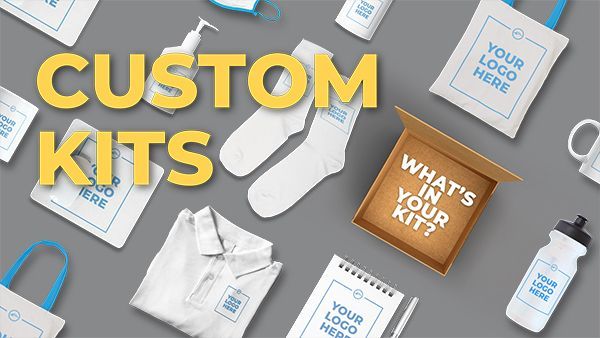 Your Biz in a Box
Make your brand stand out with items that we know you'll love. We offer an array of customizable promotional products that can be branded with your distinctive touch and packaged into a personalized kit to create a unique experience for the recipient. Cirrus is equipped to handle everything from simple kits with a few custom products, to complex kits that include several components like variable data printing, die-cut labels, specialized inserts, and more! 
What's in Your Kit?
We make the kitting process seamless for whatever kind of unboxing experience you want to create. Our blend of top-notch design and printing capabilities can make it happen within your budget! And we can take care of the shipping! 
Appreciation Kit

 - Express gratitude to clients or staff

Welcome Kit

- Welcome back staff or students

Health Kit

- Promote a new germ prevention policy 

Product Launch Kit

- Launch a new product or service

WFH Kit

- Engage with your remote employees

Retention Kit

- Reward your best customers

Tradeshow-in-a-Box Kit

- Personalize online events and meetings 
Whether you are looking for a specific item or just browsing for ideas, one of our experienced team members will help you build the perfect kit.
Here are some ideas for creating a unique unboxing experience.
Product Launch Kit

Promote a new product or service that brings attention to your brand. Ideas of items to include: Microfiber Cloth, Webcam Cover, Blue Light Glasses, Notepad & Pen, Box Cover and Insert.

Appreciation Kit

Show staff how much you care about them. Ideas of items to include: Custom Kit Mug, Coasters, Pen and Notepad.

Retention Kit

Reward your best customers and keep your brand front of mind. Ideas of items to include: Notepad and Pen, Masks, Hand Sanitizer, Mousepad, Coasters.

Tradeshow-in-a-Box Kit

Can't make it to the trade show? Bring the trade show to your potential client. Ideas for items to include: Brochure, Leather Tote Bag, Bandana, Magic 8 Ball.

Commencement Gifts Kit

Graduation is right around the corner! See us for ideas of a gift package for students - programs, awards, certificates, etc.
Browse popular items that can go inside your custom box.