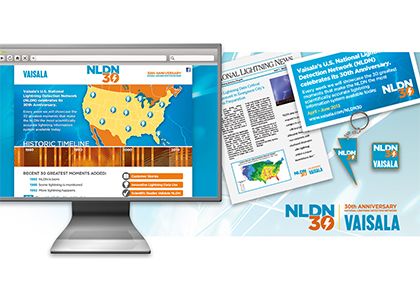 Making IT Happen for Vaisala's NLDN's 30th Anniversary
Vaisala is the world leader in lightning detection. Celebrating the 30-year anniversary of their National Lightning Detection Network, Cirrus Visual helped create, launch and manage the NLDN30 campaign.
At Cirrus we do whatever it takes to ensure our clients' success and see ourselves as important part of their business strategy. For Vaisala, we helped build customer loyalty and brand awareness by showcasing the technology, innovation and people behind the NLDN's continued success.
>> Check out vaisala.com/nldn30 to see the history of lightning detection in the United States.
"Cirrus was a great partner to work with on the NLDN30 campaign. They were there to help with the creative, as well as the sustained execution that we needed to make this campaign a success."
- Melanie Scott, Marketing Manager, Vaisala Inc.
An interactive web page, success stories, social media, print, commemorative give-aways and video were some of the tools used to engage Vaisala's current clients as well as develop new business.
Let us know how we can make "it" happen for you!