Hear from Nancy Schlegel, President for Reid Park Zoological Society on how they get Peace of Mind with Cirrus Visual.
---
What is your passion?
We are passionate about Reid Park Zoo!  Our mission is to support, advocate for and enhance the value of Reid Park Zoo for the community. Reid Park Zoo is one of the highest attended gated attractions in southern Arizona with over 600,000 visitors in 2014. And as everyone knows, we are also home to the world's cutest baby elephant, Nandi! We improve the Zoo by raising funds through donations, sponsorships, events and private rentals as well as membership. Another important role for the Society is to spread the word about what an awesome Zoo we have in Tucson through our marketing message and communications to our members and other constituents.
What makes you unique?
Nothing Gets You Closer - Reid Park Zoo is AMAZING! It is the only place in Tucson you can see wild animals from across the globe up close. It is an easily accessible Zoo in the heart of Tucson that visitors can tour in 1-2 hours, and see animals such as giraffes, rhinos, lions, tigers and our famous elephant herd. We are known for how close you can get to animals in this family friendly Zoo. Additional activities to add to your visit are camel rides, giraffe feeding, an indoor café and coming in the fall of 2015, a wildlife carousel.
What drives your organization?
Our highest calling is to inspire and educate our visitors through seeing these amazing and unique animals from around the globe and how important it is to protect our environment and fund conservation efforts so that they don't disappear. Our Conservation Learning Center is devoted to education about conservation, animals and biodiversity. Our organization is driven by our Zoo staff.The passion we see in them every day creates an extraordinary experience for our visitors. We are dedicated to seeing the Zoo continuously grow with new experiences for our guests and to continue the best care for the Zoo's animals.  
How did Cirrus bring you peace of mind?
Cirrus allows our staff to focus on what we do best, delivering the best experience to the Zoo's guests and supporters while Cirrus takes care of making sure our materials look great. We have essentially outsourced our graphic arts function to Cirrus and they deliver terrific looking materials including our quarterly member magazine, Zoo and You. We love working with them! 
Learn more about The Reid Park Zoological Society at ReidParkZoo.org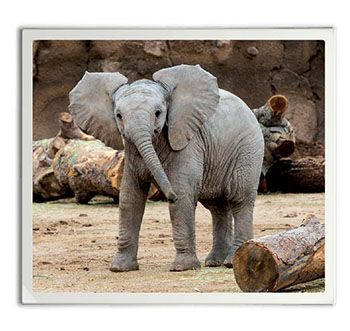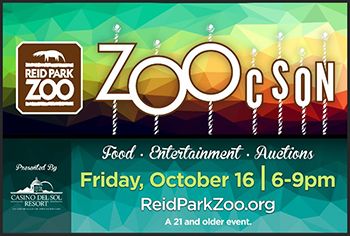 2015 ZOOcson Theme Design
This look and feel was applied to event collateral materials. This includes: invitations, flyers, banners, event signage, and their online media outlets (i.e., Facebook and website).