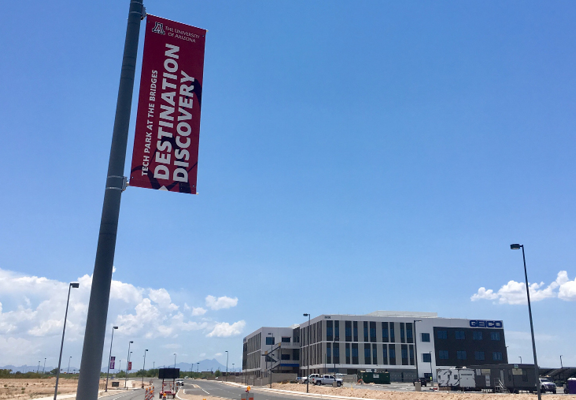 Pole Banners Take Your Message to the Streets
Pole banners, street banners, light banners, avenue banners, however you want to refer to them, these custom banners are a beacon for your message.  Pole banners help visually enhance any area such as a street, parking lot or walkway. More importantly, they draw attention to your business, school, event or promotion. Intended to soar above the crowd, your message will be very visible and an eye-grabber for pedestrians and motorists. 
Built to Last
Made from 18oz. Blockout Matte Vinyl, our banners are waterproof and the UV safe graphics are built to withstand Tucson's harsh sunny days. 
Customizable
Pole banners are 100% customizable so you can get the exact colors and design you want. Any design, artwork, photo or logo can be used in the pole banner design. Upload a print-ready design or let us help you create a perfect custom pole banner for you. 
Contact us today and let us help you take your message to the streets!