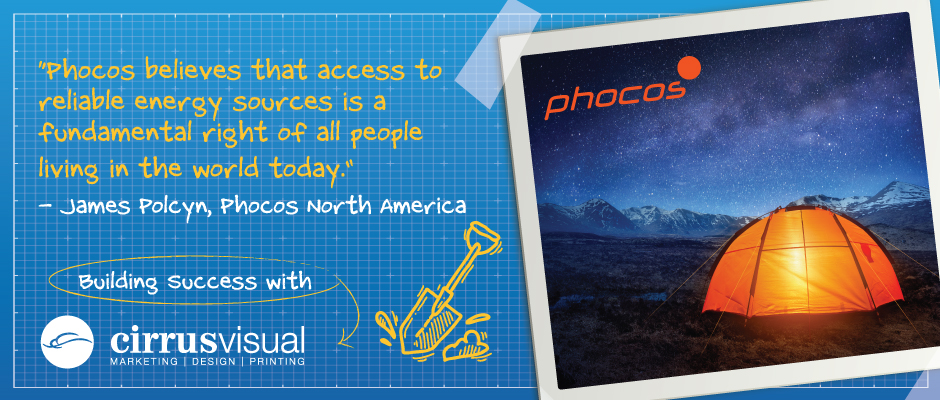 Catalog design and production

Event Collateral Management

Trade show booth concept and creation

Promotional Items
---
We talked with James Polcyn, Managing Director of Phocos North America
to hear his thoughts on how we help build their success for
off-grid solar energy solutions. 
What set the foundation for your business/organization?
James: Phocos believes that access to reliable energy sources is a fundamental right of all people living in the world today and our wide portfolio of renewable energy products are designed to increase energy access globally.
What inspires you?
James: Entrepreneurs throughout the developing world who have dedicated their lives to improving the living conditions within their countries/regions though innovative business models, effective training and pure passion for helping others. Over a billion people in the world live without access to any electricity and it's hard for us in the US to understand what impact energy access has on our ability to evolve as a society and fight poverty. It's like the old saying, "Give a man a fish and you feed him for a day.  Teach a man to fish and you feed him for a lifetime." These people are tireless in their efforts to not only give access to energy to those who do not have it, but to educate them in how they can use energy to better their everyday lives.
In building your success, what's the most valuable lesson that you've learned?
James: Keep your eye on the big picture at all times. But, remember, the devil is in the details. Our success would not be possible without establishing a strategic vision to achieve it. But, the only way this works is if you are meticulous in evaluating whether or not each tiny aspect of your business is living up to that vision. 
How does Cirrus help build your success?
James: The folks at Cirrus feel as if they're an extension of our team here in Tucson. As a German-headquartered company, we have found Cirrus quite good at capturing the Phocos corporate identity established in our headquarters and tweaking it the right way for maximum impact in the North American market. From catalogs, to promotional giveaways, to trade show booth equipment, they are great at keeping consistent quality and brand image for all of our marketing materials.
Learn more about Phocos.com
Services Provided:
Graphic Design
Printing
Business Collateral
Promotional Materials
Trade Show Booth Display
Event Collateral Management
---